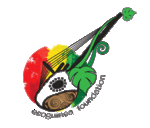 About EcoGuinea
 Fostering Healthy, Thriving and Sustainable Communities in the Republic of Guinea, West Africa

Our Team
EcoGuinea is a vibrant community of creative, resourceful Guineans – men and women of all ages, with wide range of talents and skills, who are committed to lifting their families and their nation out of dire poverty.

Earthship Library
Help Us Build a Sustainable Earthship Library
for the Children of Yimbaya in Guinea West Africa.
Guinea is ripe for change and EcoGuinea has sparked a movement of hope with an ever-growing number of families interested in being a part of it.
Who, Why & What
EcoGuinea Foundation is a non-profit NGO. We think that by building simple and inexpensive green/eco technologies chosen by local communities and focusing on the basic human needs of sanitation, power and water, that this will lead to greatly improved lives.
read more: About EcoGuinea Foundation.
EcoGuinea Development
Since 2000, our team of three quietly provided medical care, job trainings, food and education countless times to people  and families and fostered our growing team of volunteers. Lamzo has been Mardi's ears and eyes overseeing the projects. Dozens of families are now part of a "movement of hope" and we are growing. Post-Ebola, It is time to tackle the lack of power, unclean water and sub-human sanitation.
Guinea School Sustainable Library
Help Us Build a Sustainable Earthship Library for the Children of Yimbaya in Guinea West Africa.
Why Guinea.
Guinea, because of its unique history, strong civic conscience and community spirit, can be one of the nations at the vanguard of sustainable development.
Guinea is the 8th poorest country in the world, on the Human Development Index. However, it is bursting with natural resources; in mining, agriculture and eco-tourism potential. With lush, diverse landscapes, a welcoming human spirit, complex, beautiful music and dance and a long history of self-pride, it is embracing change.

A courageous people.
Guineans are a courageous people, who struggle in the midst of unrelenting poverty and political instability to sustain a rich and vibrant culture. Relying on loving families, the wisdom of their beloved griot elders, and a brilliant musical tradition that has spawned a nation of virtuosi, the Guineans have never lost hope for a better future.
Climate Change drives our projects and we aim to create eco-jobs to address poverty in a changing world. Migration and radicalisation are also prime concerns. Young people routinely risk death on small boats to reach Europe or are in danger of radicalisation. Guinea is a moderate Muslim country but there is no time to waste in addressing these issues. A basic human right is the right to create and live a life.
We Invite You to be Part of our Guinean Eco-Solutions: Our Growing EcoGuinea Family!
Please support our current project by making a donation today.
Our base is a large volunteer group of dozens of families who participate in civic improvement, sanitation and health education programs, such as cleaning maternity hospitals and open-air markets to prevent cholera from pooled water.
Our long-term plan is to establish an EcoCentre, an educational and enterprise hub, on land near Conakry, where we can develop prototype eco-solutions.
EcoGuinea is certified as an NGO by the Government
of the Republic of Guinea under the name:
Guinean Association for the Environment and Tourism (AGET)
or L'Association Guineenne Pour L'Environnement et le Tourisme.