Guinea is the 8th poorest country in the world, on the Human Development Index. However, it is bursting with natural resources; in mining, agriculture and eco-tourism potential. With lush, diverse landscapes, a welcoming human spirit, complex, beautiful music and dance and a long history of self-pride, it is embracing change.
Guinea became a democracy in 2010 and the government has scrambled to lift an ailing economy ravaged by years of military dictatorship and clobbered by the Ebola virus. The Guineans' faith and enthusiasm for change is soaring after surviving the terrifying, devastating years of Ebola.
Climate Change drives our projects and we aim to create eco-jobs to address poverty in a changing world. Migration and radicalisation are also prime concerns. Young people routinely risk death on small boats to reach Europe or are in danger of radicalisation. Guinea is a moderate Muslim country but there is no time to waste in addressing these issues. A basic human right is the right to create and live a life.
EcoGuinea Development
Since 2000, our team of three quietly provided medical care, job trainings, food and education countless times to people  and families and fostered our growing team of volunteers. Lamzo has been Mardi's ears and eyes overseeing the projects. Dozens of families are now part of a "movement of hope" and we are growing. Post-Ebola, It is time to tackle the lack of power, unclean water and sub-human sanitation.
These projects are literally life and death for Guineans – Imagine risking your life and poisoning your neighbourhood each time you use the toilet — families are ready to shape their own futures. This is vital, as practically and politically the Guineans have felt isolated from the world, disempowered and under the thumb of oppressive dictatorships. This is about dignity, change from within and self-sufficiency. Working with but not depending upon a struggling government to meet their needs.
THERE ARE COUNTLESS ECO-SOLUTIONS FOR BASIC HUMAN NEEDS THAT ARE CURRENTLY THRIVING AND GROWING AROUND THE WORLD.
After the recent devastating death of one of our founders, Jocelyn Stoller, to cancer, we have formed a new team in Australia. With a solid foundation of years of good-will and trust with many Guineans, the media and the government in Guinea, we are developing our first big project.
Who We Are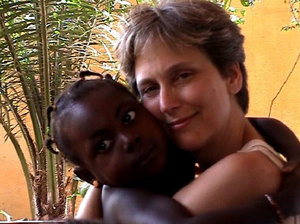 Mardi Kendall  
I grew up in Louis, in the States. When I was three my little sister Faith was born severely brain damaged. I loved her dearly, so caring for her became part "of my DNA". After my mom died (I was 14) I naturally followed the healing path — to many countries — for my own grief and to give to others. After years in Paris on the catwalks I arrived in Sydney in 1988 and co-directed one of Australia's most beloved yoga schools throughout the '90's.
In 1999 I heard the music of the the Guinean kora (harp) and was hooked, travelling to study it in Guinea in 2000. I felt truly at home and nourished by my Guinean friends. Giving back was a no-brainer. Since then my life has been about helping families survive and thrive. I was a musician (a cellist, uni degree) but my dream is to put composting toilets and solar lights into every Guinean home. Most of my salary and all donations go toward keeping kids in school and healthy. I teach yoga widely as well as give my unique and healing shiatsu massages, but most of my time is spent working on EcoGuinea. Living in Guinea full-time is my next and very close step.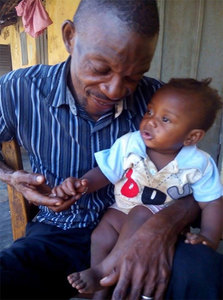 Mohamed Lamin Touré (Lamzo)  
I am a Guinean. I did my education in Sierra Leone until 12th grade. My mother is from Sierra Leone. I went back there at the age of six, after my father's death and came back to Guinea because of the war in Sierra Leone. I left school before the war, as I had no support to pay my school fees and when the rebels came to Freetown, they captured me for three weeks with some of my friends. We were treated like slaves and given no food or water. Many of my friends were killed in front of me.
It makes me think about my classmate who I sat at the same desk with from grade 6 to 11. He was killed in front of me and I was made to sing and dance while it happened. I did it to save my life. My friend was called Ibrahim Hassan Conteh.
We found ourselves in Kambia where I went to primary school. I knew Kambia very well. There were Guinean soldiers there. I told them I was a Guinean and they helped me escape. I walked through the bush with no food and water, nearly dead, until I came to the village of Farmoria just over the border into Guinea.
Today my plan and my dream is to do something for the children and my country. As a director of the EcoGuinea Foundation I dream of how can we change the lives of children who have lost their parents, how to take care of the environment, how to get health care for the people of Guinea and especially help abandoned children. I always thank the founder of EcoGuinea, Mardi Kendall, who has helped me and my family since 2000. Today we are realising our dreams step by step. I am ready for the development of EcoGuinea. I know the difficulties of children who have lost their parents. I was one of them.